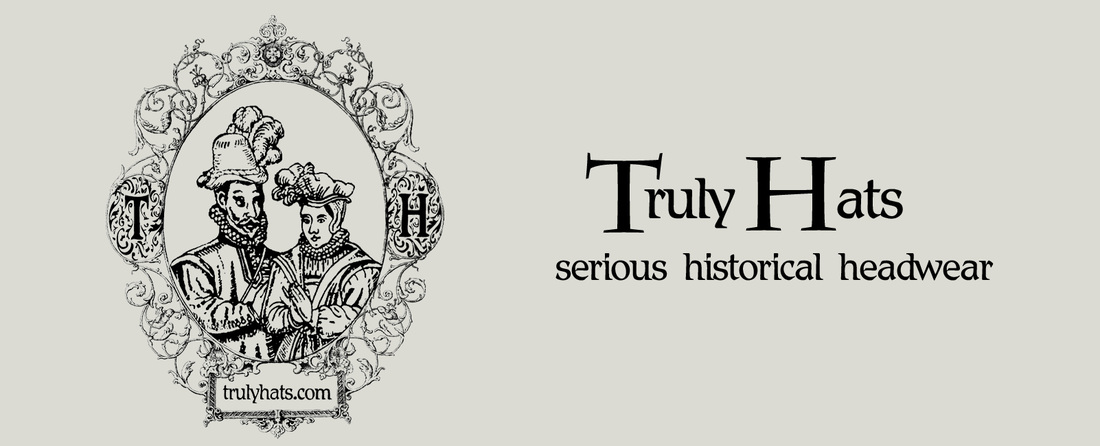 About the hats
Truly Originals hats, also called TrulyHats, are handmade 16th and 17th century European styled headwear, designed and constructed by Truly Carmichael for serious theatrical and reenactment use. They are worn by historical re-enactors, Renaissance faire cast members, Shakespeare theatres, and Elizabethan costume enthusiasts. The hats are inspired by the shapes found in Western European portraits, sculptures, engravings, and woodcuts and from extant hats from the late 16th and early 17th century. Each hat is unique, crafted one at a time using a combination of traditional and modern millinery techniques. TrulyHats range from theatrical and flashy to earthy and authentic. They are made to be durable and as weatherproof as possible, while still maintaining the natural beauty of the construction materials.
About this website
This site contains a long-time collection of historical images and research related to 16th and 17th century hats and hat making. My hope is that these images will help answer questions such as "What type of clothing would be worn with these hats?" "What country does that style come from?" "How were these hats made in the 16th century" "Is that a man's hat or a woman's hat?" To this end, I've tried to attribute images with locations and dates but I still have a lot of work to do on that front.

You will also find galleries of images of my versions of the same styles, and a modern techniques page and a link to my online store.
About the Hatmaker

Truly Carmichael is an award-winning professional costumer and milliner who holds a Master of Fine Arts degree in theatrical clothing construction and design. She has worked in various capacities in costume production shops across North America, including a full-time role as the head Cutter/Draper at the Alley Theatre in Houston, Texas. She is currently the painter/dyer/crafts artisan at the Children's Theatre Company in Minneapolis, where she is delighted to be exercising her skills daily. She's has focused heavily on historical millinery for the last fifteen years.